The Dodge Ram 1500 can only be described as an attractive workhorse, this type of vehicle needs no introduction! It's genuine pedigree and capability are well established in The UK and across the pond, it is simply in a league of it's own!
This powerhouse offers 11 trims, three cab and bed styles. There's a base V-6 making 269 lb-ft of torque, a fuel-efficient diesel option with 420 lb-ft, and the requisite Hemi V-8 (410 lb-ft). The world is your oyster when it comes to the soft-riding air suspension and intuitive infotainment system!
With 11 different models and several class exclusives, this one helluva full-size pickup you want on your driveway! The ride is simply faultless, before long you'll grab the keys and want to take it for a spin round the block!
The Ram 2017 remains mostly the same as the 2016 edition, other than certain features that are now standard on various models, with a reliable V-6 and a throaty V-8, and every model gets an effortless eight-speed automatic.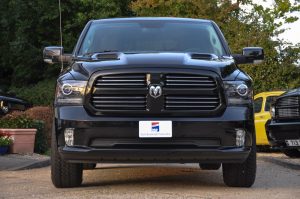 It's standard highlighted features contain a coil-spring rear suspension, eight-speed automatic transmission and engine oil cooler. An impressive 8.4-inch touchscreen Uconnect infotainment system is also installed, with front and rear parking sensors and a automatic dual-zone climate control – pretty impressive right?!
If you're after a motor that is a fuel-efficient full-size pickup, then you would do well to consider the Ram – the 5.7-litre V-8 features cylinder deactivation that boosts gas mileage under light loads.
In conclusion, if you're looking to upgrade on your vehicle to a light-duty pickup with clever outside-the-box thinking, you'll be onto a winner with the Dodge Ram 1500!
Here at David Boatwright Partnerships, we always have a range of New Dodge Rams in stock for sale here in the UK and can supply any colour or specification that is not in stock, quickly to order. We have been importing and supplying new American cars and trucks for 30 years.

Contact us now for a quote or to arrange a test drive. You can reach us by our email address – sales@boatwright.co.uk, alternatively you can give us a call today on 01376 552 399.